Book Your Meeker, CO Backcountry Snowmobile Tour with Backcountry experts.
With cooler temperatures and longer, darker days, it can be hard to feel excited about winter. As you plan out the holiday season and your winter activities, though, be sure to consider a trip to Meeker, Colorado for a backcountry snowmobile tour. Whether you've never been on a snowmobile or are an expert, a snowmobile tour is sure to be something that you and your whole family will enjoy. At Welder Ranch and Outfitting Services, LLC, our snowmobile adventures are designed to give you a sense of thrill, fun, and tranquility in nature all on a single tour. If you're on the fence about this beloved winter pastime, here are some of the top five reasons to book your Meeker, CO backcountry snowmobile tour today.
1. You Need and Deserve Some Time in Nature
2021 has been a whirlwind year for most people. Many returned to the office after being laid off during the COVID-19 pandemic or working from home, kids went back to school, and life began to slowly return to something more normal. Nonetheless, uncertainty about the pandemic, the economy, and the job market has remained constant, and tensions have stayed high—especially during the holiday season. If you've been shut up behind a screen and itching to get outside, a Meeker, Colorado backcountry snowmobile tour is exactly the dose of nature you've been craving. Multiple studies have established that immersion in nature can benefit your health by reducing stress, improving healing, and more. You'll experience the beauty of the outdoors, get your fill of snow in the mountains during what otherwise has been a very dry season in Colorado's valleys and plains, and get the chance for some peace and quiet amongst the trees and under the bright blue Colorado sky. This is a chance for you and your family (or friends—whoever you're touring with) to take time together and take time for yourselves. um.
2. You're Tired of the Same Ol' Thing
When you plan activities with the family over the winter, do you tend to fall into the same old routine? Maybe your family likes to go skiing or snowshoeing; maybe you're the family that coops up indoors and waits until the storm passes. Or, perhaps you're the family that loves to take a big trip during the wintertime but isn't traveling this year due to travel precautions and restrictions. If you're ready for something new, adventurous, and unlike anything you've ever done before, booking a backcountry snowmobile tour should be at the top of your list! A backcountry snowmobile tour is something that everyone in your group will love, including the nature-lover, the adventurer, the gear-junkie, the introvert, and the extrovert
3. There's No Place Like Meeker
Colorado is well-known for having dozens of quaint and picturesque mountain towns throughout its borders. One of the most unique of those spots is Meeker. Located within Rio Blanco County, Meeker is a small ranching town nestled at the edge of the Flat Tops Byway. Sitting at an elevation of 6,240 feet and hosting a population of just over 2,000 people, this charming place offers a small-town feel with killer views to boot. The town's motto is, "The river runs through it," which hints at its beauty. Not only will you be able to get in your fill of nature with a snowmobile tour while in Meeker, but you'll also be charmed by the restaurants, shops, and lodging options in the historic downtown, including the Meeker Hotel and various short-term rental options, such as a private cabin on the White River. Once you've finished your snowmobile tour, consider other top activities in the area, such as the White River Museum or Smoking River Studio Arts. While it may not be a big international trip abroad, a trip to Meeker will offer adventure and charm that you won't get by staying at home.
4. Tours Available for Riders of All Experience Levels
If you've never ridden a snowmobile before, you may be intimidated by the idea of being surrounded by more advanced riders or nervous about the idea of tackling advanced terrain. On the same note, if you're a more experienced rider, you may be hesitant about the idea of signing up for a tour with a bunch of novices. The good news is that we offer something for everyone of all experience levels! We design rides for each group based on ability and experience. We also have various ride tour options, including our High Country ride, full-day ride, guided services for those who have their own sleds, and even snowmobile vacation packages that include a two-night stay at the historic Meeker Hotel, dining, sleds, equipment, transportation, and a full day on the mountain. Not sure what works best for you? Just call us and we can help you to choose the right tour for your experience and group size.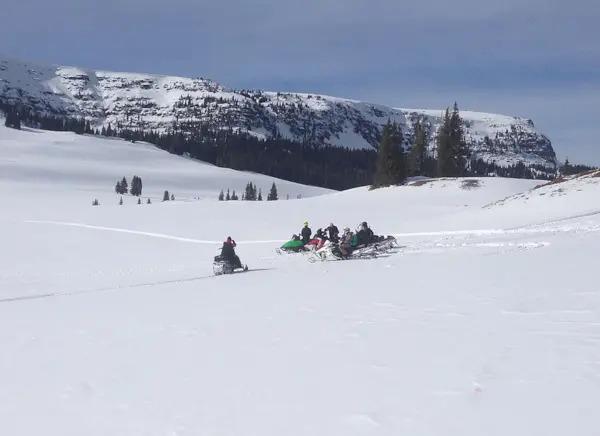 Snowmobile Adventures
Join us for spectacular White River National Forest snowmobiling experiences;
5. Tour Dates Fill Up Fast
If you're thinking about booking a backcountry snowmobile tour but aren't convinced, consider this: tour dates fill up fast! These tours are incredibly popular, especially as people seek more outdoor activities that are engaging, safe, and family-friendly. If you have specific dates in mind, we strongly recommend booking your tour as soon as possible. Otherwise, you may miss out on your chance!
Make Your Reservation for a Backcountry Snowmobile Tour in Meeker, Colorado Today!
Making a reservation for your backcountry snowmobile tour in Meeker, Colorado is easy—to start, visit our website, read about our tour options, and then click "book now." You can then choose your date, your preferred tour type, and select for the number of people in your group. Prices are listed right on our website!
Do you have questions about our snowmobile tours or would you like to learn more about our services or staying in Meeker? Getting in touch is easy! Reach out to us directly by phone at 970-314-5923 or send us a message by filling out the contact form on our website.