Epic Snow in Meeker, Colorado, makes 2023 the Best time to book your Snowmobile Adventure or your Guided Snowmobile Tour with Welder Ranch and Outfitting Services.
This inclusive snowmobile vacation includes :
2 nights' stay at the historic hotel, great dining, sleds,  guide, equipment, and transportation from the hotel, and a day on the mountain. All for only $575/per person! A great vacation at great value! See why Meeker is the gateway to the best snowmobiling in Colorado. We're off the beaten path and well worth the drive!
Book your Snowmobile Adventure Early for 2023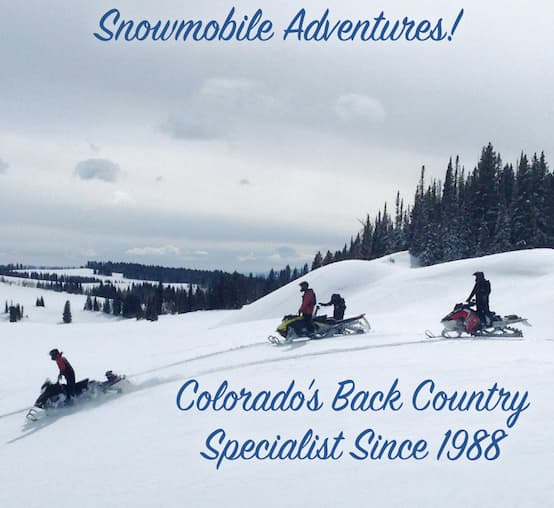 If you've set a resolution to get outdoors and explore more in 2023, booking a snowmobile adventure to witness the majesty of the White River National Forest is an option that you shouldn't overlook.
About White River National Forest
Covering 1.2 million acres, the White River National Forest is America's most visited national forest. Located in Northwestern Colorado, it's about an hour and a half west of Denver under usual driving conditions.
It's divided into four districts: the Grand Valley, Battle Mountain, Roaring Fork, and Eagle. Meeker, Colorado, is located in the Grand Valley district.
The Grand Valley district offers access to the backcountry on the Bookcliffs Mountain Range. It offers beautiful scenery and steep slopes, cliff bands, rock formations, ancient forests, and in the spring and summer, meadows rich with many species of wildflowers and wildlife.
Spanning both sides of the continental divide, Meeker is located right between Routes 64 and 13. The town has a rich, storied history dating back to the 1800s when wars raged between native Americans and new settlers.
Fast forward to the present day. Today, Meeker is a well-known destination for those looking for an outdoor adventure. And the area doesn't disappoint!
The White River National Forest is open year-round for recreation. However, a high-clearance 4WD vehicle or snowmobile is the best transportation method during the winter months due to the frequently snowy conditions.
What to Expect on Your Snowmobile Adventure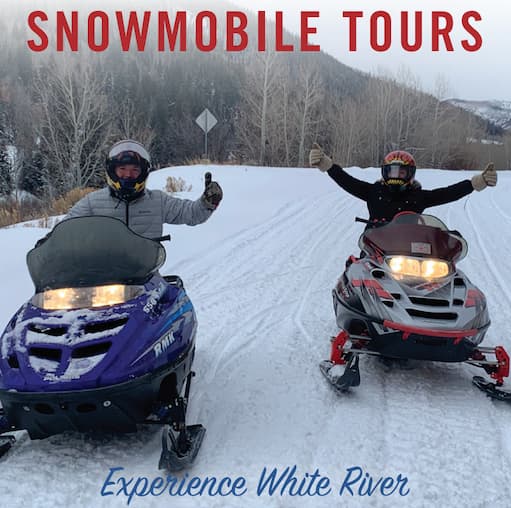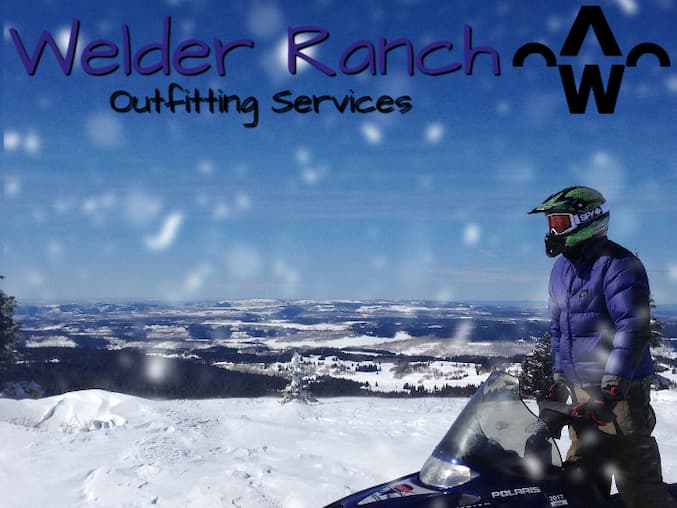 The White River National Forest scenery is beautiful, and on a clear day, you can see iconic landmarks such as the Flat Top mountains and Meeker's 13,000-foot namesake mountain in the distance.
Welder Outfitters offers a wide range of guided tours for riders of all skill levels, from novice to professional. Snowmobile vacation packages, including private accommodations, meals, equipment, transportation, and full days spent in the mountains, are available.
Additionally, Welder Outfitters offers half-day and full-day tours and multi-day trips.
Half-day excursions that include sled rental are ideal for novice riders and provide participants the opportunity to witness the glorious North Fork of the White River or ride the groomed trails of the Valley Of The Marvine. Half-day excursions offer two to three hours on the backcountry trails.
Full-day tours are ideal for riders with moderate experience on snowmobiles. Full-day tours include sled rental and cover a lot more ground. Full-day tours include treks to elevations as high as 10,000 feet through the Ripple Creek Pass, Fawn Creek, or the Valley Of The Marvine. Full-day snowmobile adventures include 6 hours on the mountain.
But winter doesn't last forever, so be sure to book your snowmobile tour early for the 2023 season! Dates and availability fill up quickly, so if you have a date in mind, it's best to book it now before someone else does!
Enjoy A Backcountry Cabin Vacation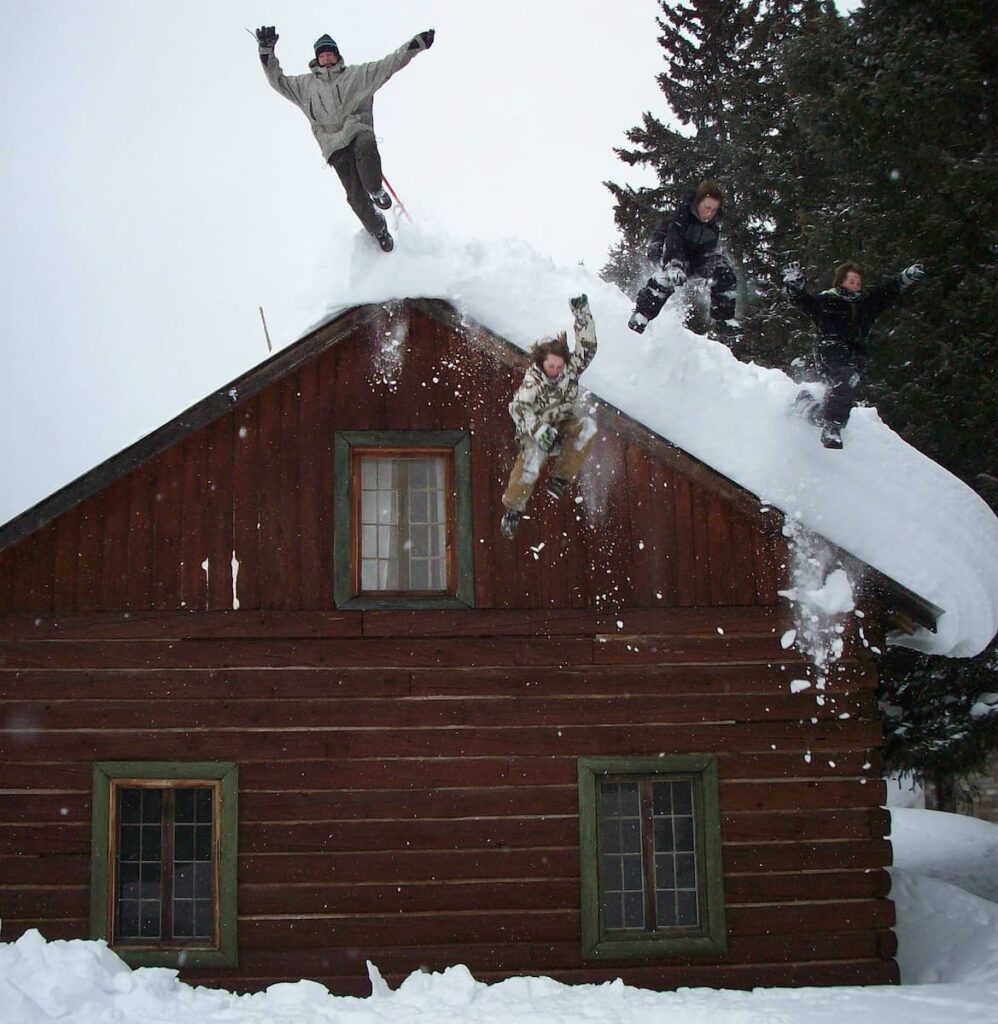 If the noise of ordinary life is too much for you and you're looking to get away from it all, consider a backcountry cabin vacation.
Welder Outfitters offers snowmobile tour packages that include private cabin accommodations at the Welder Ranch and Outfitting Services LLC Site. This secluded and private cabin is the perfect destination to kick back and relax after a day of snowmobiling in the White River National Forest.
Got Your Own Sleds? Let Us Be Your Guide!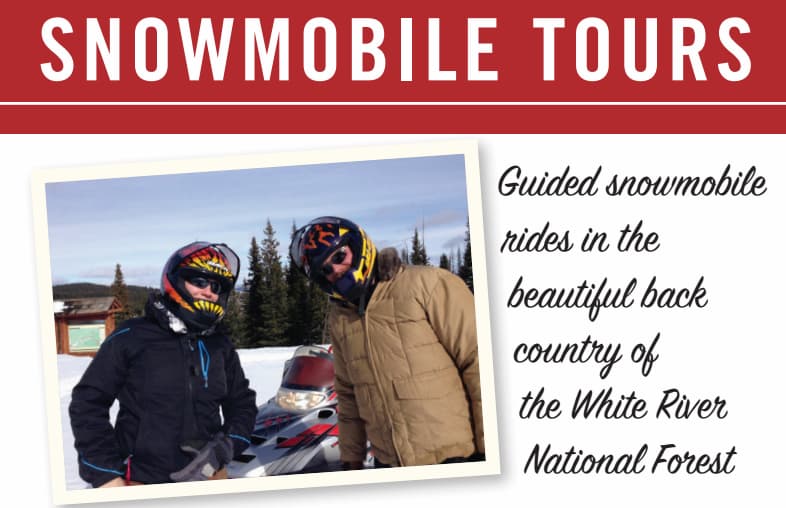 Experienced riders who bring their own sleds can book a half-day or full-day guided tour. These tours are perfect for groups of four or more who prefer to use their equipment or want to explore more challenging terrain in the backcountry slopes.
Based on the day's conditions or the group's preference, tours can take place in the Grand Valley, Eagle's Nest Wilderness Area, the Bookcliffs Mountain Range, or the White River National Forest backcountry surrounding Meeker, Colorado.
We have decades of combined experience exploring backcountry trails. Book a snowmobile tour with us early for 2023. Dates are filling up quickly!
Come Prepared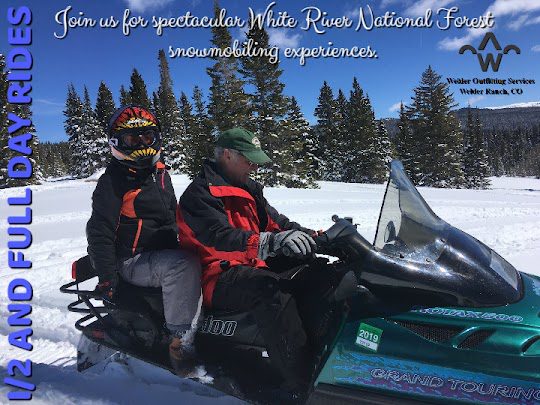 For safety and comfort, it's best to prepare for whatever weather conditions might arise.
Cold air, brisk winds, and the potential for snow mean riders should dress appropriately. Ideally, riders should wear layers, goggles, and a ski mask to protect the face. It's an even better idea to wear helmets, gloves, and snow boots. Insulated outerwear promotes safety and comfort when exploring the untamed wilderness of the White River National Forest.
Other essential items to bring include toe and hand warmers, water, snacks, a first-aid kit, and your digital or GoPro camera to capture the special memories of your winter adventure.
Ride The High Country!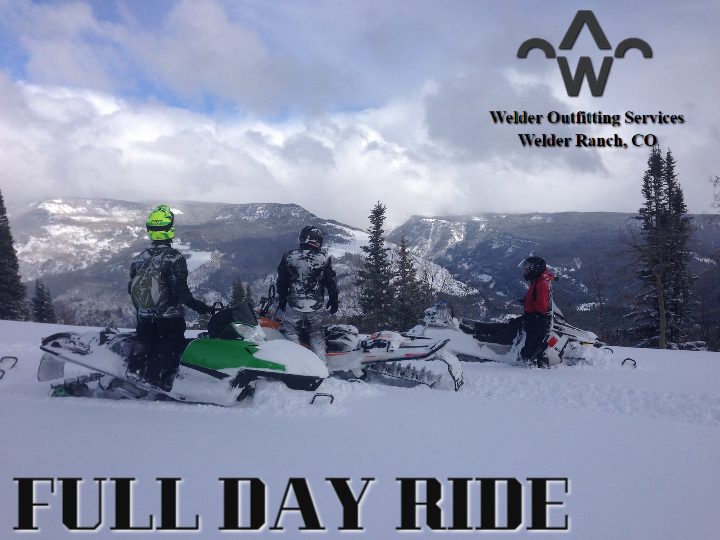 At Welder Outfitters, we love sharing our passion for the outdoors with locals and visitors alike. So when you ride with us, you're in for an adventure of a lifetime. Our experienced and friendly tour guides will show you a side of Colorado you've never seen before.
Snowmobiling is a fantastic way to explore Colorado's majestic high country, and it should be a priority for anyone looking to get outdoors this winter. If you've never witnessed it firsthand, you don't understand how awe-inspiring and breathtaking the experience can be. So book your snowmobile tour today and see for yourself!
Welders Ranch and Outfittering Services LLC offers snowmobile tours from January 1, 2023, to April 15, 2023! That's a 104-day window of opportunity to enjoy your backcountry snowmobile adventure.
About Welder Ranch And Outfitting Services LLC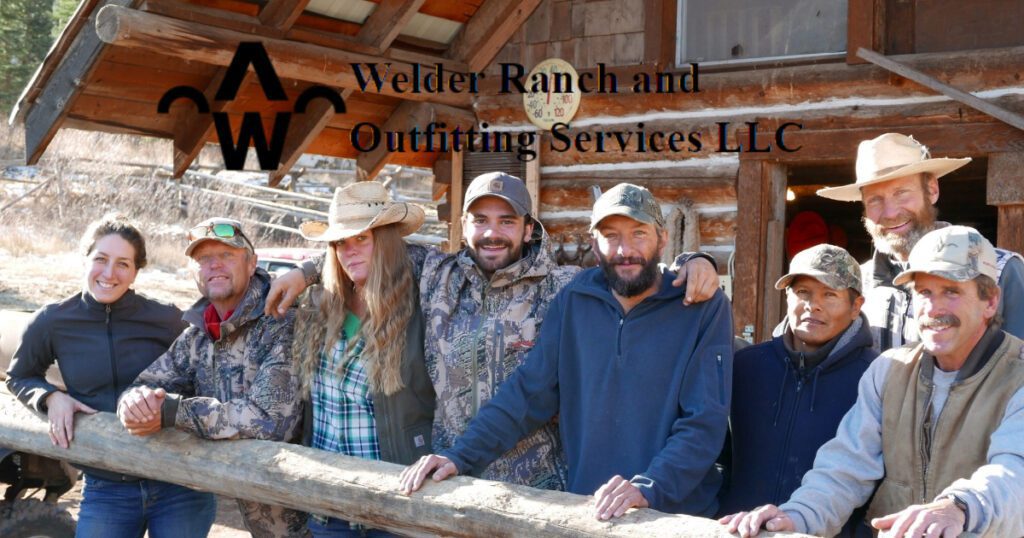 Welder Ranch and Outfitting Services LLC is a family-owned and operated business. Since 1988, we've strived to provide exceptional customer service, superb safety records, and the best value for our customers.
From the moment you arrive at Welder Ranch to the moment you return, we want you to enjoy every minute of your time on a snowmobile. Our experienced and friendly tour guides will show you a side of Colorado you've never seen before.
We hope you take the time to experience all that the White River National Forest has to offer during your winter vacation. Book your snowmobile tour early for 2023 – dates get booked up quickly! And be sure to come prepared for a cold, enjoyable day on the slopes. Your next adventure exploring all that White River National awaits, and we're happy to be your guide.